What Our Clients Say
Below are some of our client testimonials

By: Esteban C. and Nathalia B.

By: Errol M. and Cecile M.

By: James S. and Mary Jane B.

By: Paul M. and Tiffany H

By: Deepak R., Geetha R. and Lakshmi R.

By: Andrei N. and Alex R.

By: Shane P. and Felissa A.

By: Stanley L. and Cedella L.

By: Michael H. and Cheyvonne L.

By: Sang Kyun K. and Yung K.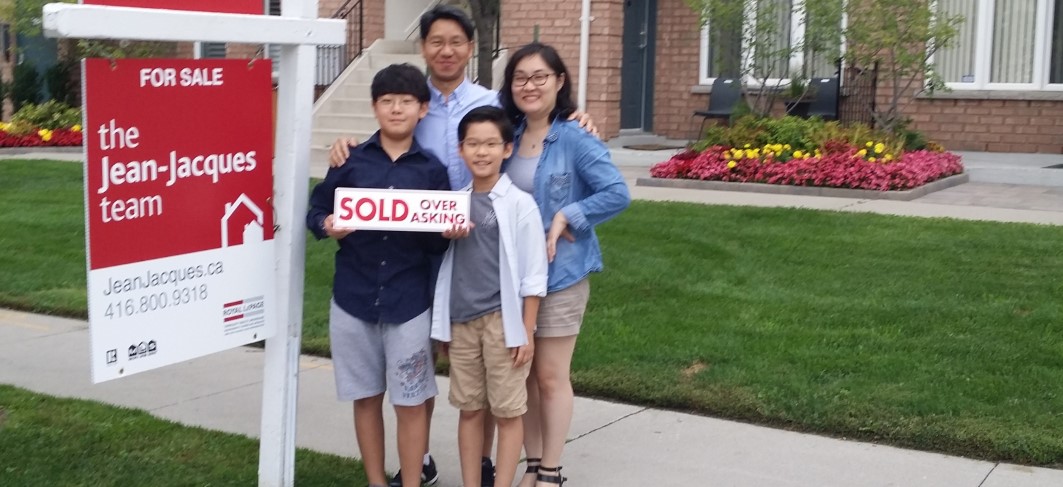 Dear Obed, My wife and I really appreciate your team's efforts to get our property sold for the best possible price. You also guided us through the listing and sale process with the steady hand of experience, and helped us arrive at the right decisions for our family. We are so impressed, and really happy that we chose you. The sale of our home ended up being an exciting experience, instead of a scary one. We saw your deep passion for your work, and your masterful negotiation. Your skills at the negotiating table were truly second to none. My wife and I are amazed that we were able to make such a fantastic return on the sale of our home, considering we purchased it less than one year ago! We cannot thank you enough. We will be telling our friends and family about you and your team. Keep up the good work!
By: Manik V. and Nisha M.
In the sellers' market we are in today and our pre-conceived notion that all agents are virtually the same, we thought paying full freight for Obed and his team's services would be overkill to net us the most money for our property. Even after meeting with the team and being presented their plan for a coordinated marketing push to maximize the traffic that would bring the most buyers to the table, we were not 100% convinced their services were required. However, the professionalism, diligence and negotiation skills displayed by Obed and his team to win our business convinced us that selling our house through just any agent could be a costly mistake, and one we were not willing to take given the financial and emotional importance of this transaction. Ultimately, with Barb's attention to detail, Obed's experience at the negotiating table and the behind the scenes work that was put into our sale, we are fully convinced that choosing this team was the best decision we made when selling our property. Obed and his team did what they said they would and more by closing a deal significantly above our asking price (the highest price on the street) and in under 1 week!
By: Lynda L. and Serge L.
Dear Obed, We would like to thank you for the way in which you treated the sale of our home. We dealt with many real estate agents before but never like your team. We learned a lot! The experience at each phase of the sales effort was superior, such as innovative efforts in generating prospective buyers, useful insights on pre-listing staging, effective showings and proactive facilitation during the sale negotiations. You were true to your word and there was no pressure for any decision that we didn't want to make. Your professionalism, your noticeable degree of competence, knowledge and experience made the difference. Again we were very happy with the service provided and we will highly recommend you for any residential real estate needs.
By: Lana S.
Obed, I truly respect the quality of work you and your team delivered for the sale of my mom's condo. Your attention to detail and professionalism was evident. You are not just a sales team, you are committed advisors and a support team handling a very sensitive financial transaction. For many consumers, a real estate transaction is the largest financial commitment they will every make. You show that you care and take great pride in what you do. You remind me of a billionaire who says integrity is everything. You respect the trust your clients give you and your informed advice is invaluable. May God continue to bless you and your team. Continued success.
By: Carol B. and Eric B.
The Jean-Jacques Team are true professionals, with the experience and know how to sell homes. They asked the right questions to determine our needs and then went way beyond our expectations to prepare our home for sale. As opposed to simply putting our home for sale on the MLS, they thought outside the box and immediately began their exceptional marketing plan. Action speaks louder than words but the truth is in the results. Our home sold, meeting all our expectations, in one week!
By: Sabeen C.
It was a pleasure to have the Jean-Jacques Team sell my property. They handled everything from start to finish. My property was sold within a week and they were able to get me more for my investment than I had anticipated. During each open house, I would receive a detailed email summarizing all of the visitors and whether there was an offer. They were extremely professional with exceptional customer care etiquette. Obed is charismatic and passionate. I would definitely use the Jean-Jacques Team for my next purchase or sale of my home. Thank you guys you made my life a lot easier!
By: Stephanie C. J and Carol C. J.
We thought that a home that filled our needs in terms of price, location, size, and other needs did not exist but Obed and his team found it made it a reality... The Obed Jean-Jacques Team provided an unmatchable service that has made our families lives run more smoothly on a daily basis. Words can't describe how much their work has changed our lives by finding us the home that we needed. They even helped us to come to see that what we needed was not what we wanted but what we have now is better than we could have imagine
By: K. Pacquette
I had always thought it was a myth that you can walk into a home and know it's the right one. My cynicism vanished immediately upon viewing what is now my home. But wait, it doesn't end there! I had no idea of the amount of work that goes into making an offer. Obed and his smart and savvy team member Gloria Segura worked painstakingly into the night to ensure I was positioned well amongst other offers. They informed me of each step they were taking and why. They laid out all the pertinent information needed and empowered me to make an informed offer. He made me his top priority... Even after my offer was accepted, Obed continued to help me through the entire process step-by-step. There was never a time he was unavailable for a consultation, even if this meant well into the evening, or on his birthday or at a holiday celebration. If I ever felt uncertain, it didn't last for long. Obed over-extended himself to ensure I was comfortable throughout. On more than one occasion I've expressed he has not just met my expectations, he exceeded them. I'm grateful for this entire experience, not only because it has resulted in me finding the home of my desire but beyond this, because of the talent of Obed and his team, I've gained new knowledge, skills and experience that will no doubt continue to serve me well on my journey. I would recommend the services of the Obed Jean-Jacques team again & again and feel fortunate to have gone through this amazing journey with people I respect and trust.
By: Celestin M. and Lokale M.
To the Jean-Jacques Team, We have never received such a professional service as we received from your team where customer's interest is paramount and where availability, resolve and stick-to-itiveness for the customer's satisfaction is first and above everything. Moreover, we have been impressed by your 24 hours availability in dealing with customer's cases. You have, so to speak, an answer for all customers' question. Where other brokers' put their interest first, the Obed Jean-Jacques team puts the customer's interest first all through the selling and the buying process even in the renting of a new property. They will never leave the customer in limbo even after getting their pay. My wife and I were flabbergasted by your team enthusiasm, professionalism in the relationship between you and the customer. Punctuality, respect and the mastery of real estate business positively impressed us to the end that we decided not to work with another team but yours in the future. Kudos to Obed Jean-Jacques team! Regards
By: The Injetis
Dear Obed, I don't even know where to begin! What an amazing and pleasantly unexpected journey it has been looking for and purchasing a home for my mother with you. In dealing with and understanding the world of business, money and the real estate industry in today's time; I shook your hand with my guard up and frankly feeling like, 'here we go again with another one of these 'money-minded' agents'. It was to my surprise to learn that you were a man of your word and even more, I was surprised to experience your level of integrity and your continuous hard work - and I mean Hard Work! By this I mean that when we got really difficult and kept changing our minds on you; going back and forth with various properties, etc; you only continued to guide us and work with our personal needs and desires. Other agents turned us away or showed impatience and lack of understanding towards our unique situation; ultimately just trying to win a sale from us. Obed, your expertise and guidance was so appreciated that our words cannot begin to express our gratitude. You are obviously very well versed and have a deep understanding and knowledge of the real estate industry. You didn't just show us what every other agent was showing us on the MLS, you went out of your way to dig and find the perfect place for us. You have made such a difference in my mother's life, not just by helping her find the perfect home but in the entire experience with you! You showed such patience and explained things over and over so we both understood. You went the extra mile when you didn't need to and please know that every gesture was noticed and noted! We thank you from the bottom of our hearts for helping us find a home, for steering us in the right direction, for allowing us to trust in you enough to lead our way and hearing your suggestions etc. We are grateful and want you to know that should we decide to ever make another real estate move in ANY capacity, we will only call on you as we realize your worth. We have already and will continue to recommend you to others as there are none of 'you' in the industry of Real Estate and we want people to know that there are indeed people that they can count on as finding and selling a home is such a personal and emotional venture. May you receive an abundance of success in your coming future and may you experience peace of mind and joy and satisfaction in your work. With So much and sincere thanks and appreciation.
By: Katarzyna W.
Dear Mr. Obed Jean-Jacques, I cant think of no better agent to work with, or recommend, than yourself. My experience with the agent I have worked with before you was absolutely horrible... Needless to say, I was VERY reluctant of finding a new agent to work with. I came to our meeting ready to attack with absolutely zero patience left. I was drained, tired, and in no mood to deal with any "agent attitude". Before even looking at properties, you took your time in sitting down and explaining to me the entire process, relationship between the buyer and agent, contracts involved and the possibilities of finding the right property. I was surprised that you took the time to look over my old contract as well and explain to me where the other agent was mistaken. At no time did I feel pressured, rushed, or mislead in any way. Looking at properties with you was a pleasure as you listened to exactly what I was looking for. I was under a time restraint and if anyone was in a hurry, it was ME rushing YOU! I am so thankful that I worked with you as you put me immediately at ease and you were really someone I felt I could trust. I admire your professionalism and making your clients feel like they are important and that you actually care about their needs and where they live! You put client's concerns #1 and that's what separates you from the rest. Thank you so much for turning my awful experience into a positive one. You can be sure that I will recommend ONLY YOU to any potential home-seekers in the future as I believe you are truly a positive asset to the world of real-estate. Thank you for this positive experience. I now live in the home of my dreams and it's because of you!! All the best.
By: Lorely G. and Ramon G.
Thank God for leading us to Obed through an office colleague. The seemingly daunting and complex journey of finding our first property in Canada in such a short time was made simpler and fun. We appreciate the thorough orientation provided to us right away and then connecting us to the professionals we needed the services from. His professionalism and his diligent work in every step of the process especially in research and negotiations, indeed exceeded our expectations. With his help, we are very happy with our home investment and the community surrounding it. Again, thank you.
By: Debbie B.
I was referred to Barb Zaldin by my Mother who told me "she won't steer you wrong". Barb was professional and made me feel that I was in good hands. She asked me what I was looking for during a comprehensive first meeting and really listened to what I told her. Within a short period of time she helped me find a house that had most of the items on my wish list, and very quickly sold my house. Both sale and purchase were in the price range I was hoping for. Barb gave me great advise and assisted me with every step of the process. I would highly recommend her and will surely refer my family and friends to her knowing that they will receive excellent service.
By: Deepak R. and Geetha R.
Obed and Barb were exceptional. They invested a lot of time explaining the process, rules and regulations governing rental of my property and made sure I was 110% in the loop and aware of things. Additionally, they were always ready to provide advise and guidance and made me feel like I was their number 1 client even though this was a simple rental activity. My experience with them showed me the value of trust, integrity, deep expertise and superior client centric nature that Obed and team have as their core values/DNA and I can say without a doubt (based on my experience working with a number of agents in the past) that the Jean-Jacques team are absolutely first rate and should be any clients first choice.
By: Neville H. and Leolyn H.
When we asked Obed to find us a tenant, we had some very specific criteria. Obed listened to us and understood our needs (we had recently rented to a problem tenant). He conducted a wide and careful search and came back with a short list of candidates. In the end, we selected the tenant that suited our situation exactly. Along the way, he was very patient with us, precise with his explanations of the process and detailed in handling the paperwork. We are very happy with the tenants he found and would not hesitate to use him again in this capacity! Thanks Obed
By: Brian M.
Praise for Obed Jean-Jacques Obed was an incredibly thorough and diligent agent to work with. Given the time frame of our search, Obed provided tips for viewing properties which proved very useful when we were deciding to put in an offer. Obed ensured that all of our documentation was in order, prior to viewing properties, to allow us to jump on the properties that we found most appealing – he was very proactive. Obed was always available to answer any of my questions, and he always answered my questions clearly and succinctly. Obed proved to be instrumental in our finding the right property and I wouldn't hesitate to recommend him to anyone. Sincerely
By: Eero T. and Tim C.
Obed, Thanks for all your help finding us the new place. Your intimate knowledge of the intricacies of real estate transactions, combined with your integrity & prompt follow-ups, makes you a wonderful person to have as representation. You have incredible patience in helping us increase our understanding of real estate. You put us at ease and you were really someone that we felt we could trust. We recommend anyone looking for a fantastic agent, to choose Obed! Thanks so much, and all the best in your future,.